Introducing the Alien Ape Discreet E-Nectar Collector - a revolutionary blend of cutting-edge design and robust structure. Crafted with precision, this discreet device combines style and functionality for an unparalleled dabbing experience. The Alien Ape E-Nectar Collector boasts a sleek, futuristic design bound to turn heads. Its streamlined body fits comfortably in your hand, making it perfect for discreet use. The attention to detail in its design reflects both aesthetics and ergonomics, ensuring a comfortable grip while adding a touch of sophistication to your dabbing ritual. Inside the Alien Ape E-Nectar Collector, you'll find state-of-the-art heating technology.

Features:

450mAh Long Battery Life
510 Thread - Used with Coil or 510 Thread Cartridge
3 Variable Temperatures (3.4V, 3.7V, 4.2V)
Quartz Heating Coil (1.2oHm Resistance)
Aluminum Alloy Body Coated with Zinc
Includes Brush - Easy Clean
Can Be Used With Coil Or Cartridge
Use Your Favorite Concentrate
Vape Pen With Dual Use
Coated With Zing
Sip, Dip Or Vape
Great For Beginners
All In One Kit
Enjoy Dry Herbs
Easy To Use

Includes:

1 x Electronic Nectar vaporizer
1 x Silicone container
1 x Dab tool
1 x Charger

 
We will ship your order within 1-2 business days. You should receive your Smoky Box within 3-7 business days after your order is processed, depending on your location. We only ship within the Continental United States.
We offer returns or exchanges within seven days of receiving your order as long as the product is unused. Click here to request a return or exchange.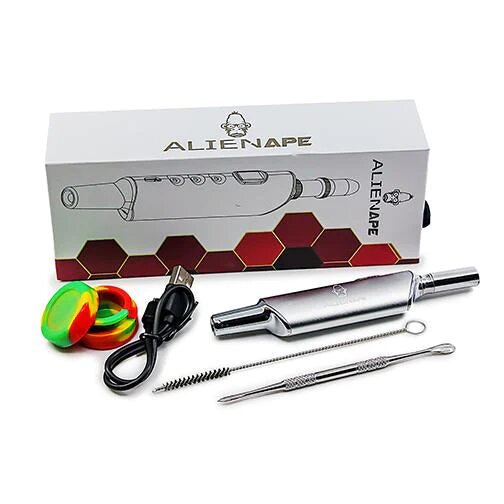 Alien Ape Discreet E-Nectar Collector