The High Voltage Premium Detox Drink is a rapid-action solution that takes effect within 30 minutes and provides a lasting impact for up to 7 hours. It is carefully crafted with a distinctive combination of B vitamins, creatine, and essential nutrients, specifically designed to eliminate undesirable toxins from the body. With a generous quantity of 16 fluid ounces per bottle, it offers a comprehensive detoxification experience.
Directions


Drink High Voltage liquid followed by 16oz of water.

Wait 15 minutes then drink another 16oz of water.

The product will be most effective after 3 normal-sized urinations.

For Maximum Results

Avoid unwanted toxins for 24-48 hours

12-24 hours before taking High Voltage, drink ten 8oz glasses of water over an 8-hour period.

Urinate frequently to expel toxins

Do not eat large meals or consume Caffeine or fruit juices

Avoid over-the-counter medications, alcohol, acidic liquids, vitamins, or salty foods.

Highlights

16oz bottle
Effective in 30 minutes
Lasts up to 7 hours
Multiple flavor options
We will ship your order within 1-2 business days. You should receive your Smoky Box within 3-7 business days after your order is processed, depending on your location. We only ship within the Continental United States.
We offer returns or exchanges within seven days of receiving your order as long as the product is unused. Click here to request a return or exchange.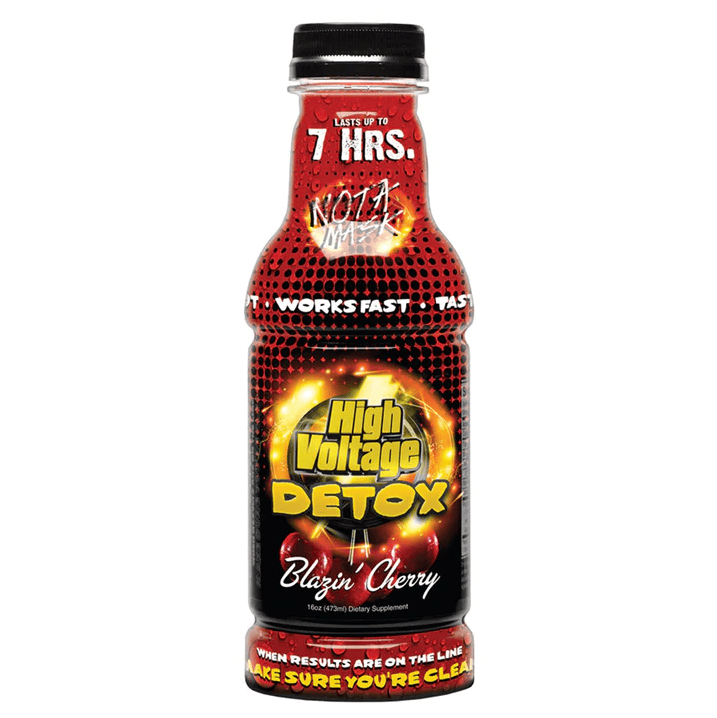 High Voltage Detox | 16oz Blazing Cherry