Love Bites are the perfect snack for any occasion. Made with natural fruit and yogurt, they're packed with flavor and nutrients. This 12-pack display is ideal for parties, potlucks, or to have on hand for a quick and satisfying treat. With a variety of delicious flavors to choose from, there's a Love Bite for everyone. Whether you're in the mood for something fruity, sweet, or savory, you'll surely find a flavor you'll love. And because Love Bites are made with natural ingredients, you can feel good about snacking on them. They're a great source of protein and calcium, and they're low in fat and sugar. So next time you're looking for a delicious and healthy snack, reach for a Love Bite. You won't be disappointed!

To be sure you are maximizing the effect of CBD Love Bites, please be sure to:

Take as needed, not excessively (can be taken daily, no more than once every 6 hours).
Keep the Love Bites away from direct sunlight and store them in a room-temperature environment.
We recommend drinking one CBD Hangover Recovery Shot as needed when experiencing hangover symptoms.
Not intended for use under the age of 18.

Additional Information:

Each packet contains one serving of 2 gummies.
Non-GMO.
100% Natural Ingredients.
Can be enjoyed together or alone.
Plant-derived formula.
Made in the U.S.A.
We will ship your order within 1-2 business days. You should receive your Smoky Box within 3-7 business days after your order is processed, depending on your location. We only ship within the Continental United States.
We offer returns or exchanges within seven days of receiving your order as long as the product is unused. Click here to request a return or exchange.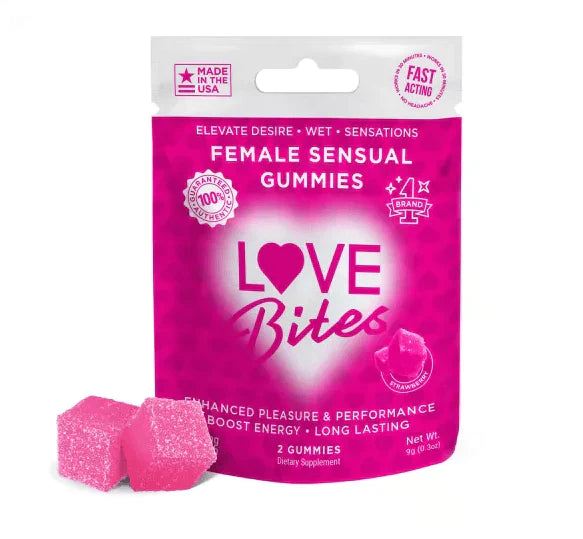 Love Bites 12 Pack Display