Experience the excellence of double-pressed original RAW black classic rolling papers with a 24-piece display, tailored to meet your smoking needs. Crafted from unbleached paper material, these papers guarantee a smooth smoking session for both recreational and medicinal purposes.

Each pack of rolling papers consists of 50 leaves, ensuring a long-lasting supply. With the natural hemp gumline, you can effortlessly stick the rolling paper and keep it intact throughout your smoke.

Manufactured in Spain, a renowned hub for top-quality rolling papers, these products meet the highest standards of craftsmanship.

Enjoy an extended period of indulgence with 24 packs of rolling papers in each box, providing you with an ample stock of premium smoking materials.

What's included:

- 1 Box, 24 packs
We will ship your order within 1-2 business days. You should receive your Smoky Box within 3-7 business days after your order is processed, depending on your location. We only ship within the Continental United States.
We offer returns or exchanges within seven days of receiving your order as long as the product is unused. Click here to request a return or exchange.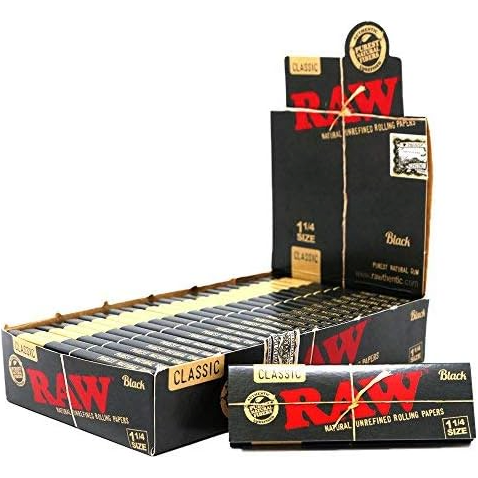 RAW Black 1 1/4" Classic Rolling Papers