Experience the convenience of RAW Classic 1 1/4 Cones. This pack includes pre-rolled cones that are ready to be filled with your favorite herbs. Made from natural, unbleached rolling paper, these cones offer a smooth and enjoyable smoking experience. With their perfect size, these cones are ideal for individual or small group sessions. Save time and effort with RAW Classic 1 1/4 Cones and enjoy your smoking moments to the fullest.

What's Included:

-1 Box | 32 Packs | 6 Cones per Pack
We will ship your order within 1-2 business days. You should receive your Smoky Box within 3-7 business days after your order is processed, depending on your location. We only ship within the Continental United States.
We offer returns or exchanges within seven days of receiving your order as long as the product is unused. Click here to request a return or exchange.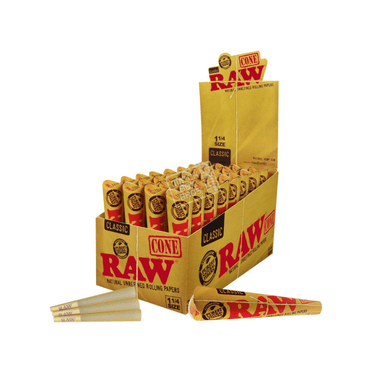 RAW Classic 1 1/4 Cones | 32 Packs