The Raw Connoisseur rolling papers are specifically designed to cater to experienced smokers seeking effortless rolling, a slow burn, and an unadulterated taste.

These papers are crafted using a unique blend of non-chlorinated fibers and finished with a natural hemp gum line. This eco-friendly gum line not only contributes to the papers' sustainability but also supports a slow and even burn. To prevent runs, each paper is watermarked with a crisscross pattern.

The Raw Connoisseur 1 1/4" Rolling Papers w/ Tips display is the ideal choice for Raw enthusiasts. It includes 24 booklets, with each booklet containing 32 papers and filter tips. With this display, you can enjoy the convenience of having an ample supply of Raw Connoisseur rolling papers and tips at your disposal.

What's Included:

- 1 Box, 24 packs
We will ship your order within 1-2 business days. You should receive your Smoky Box within 3-7 business days after your order is processed, depending on your location. We only ship within the Continental United States.
We offer returns or exchanges within seven days of receiving your order as long as the product is unused. Click here to request a return or exchange.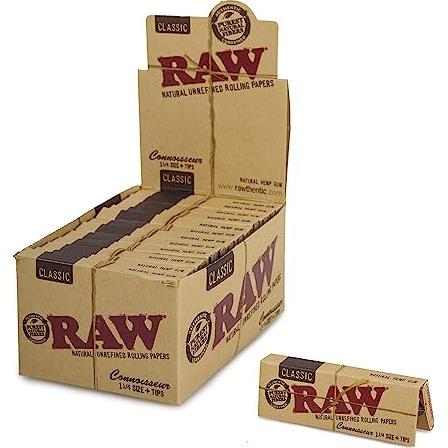 RAW Classic Connoisseur 1 1/4 Rolling Paper With Tips