Enjoy the RAW Classic King Size Slim Rolling Paper. It is a popular choice for rolling cigarettes or joints. These rolling papers are designed to be king size slim, providing a longer and thinner rolling surface.

What's included:

- 1 Box (50 packs)

The king size slim format gives you more space to roll your preferred amount of tobacco or herbs, allowing for a personalized smoking experience.
We will ship your order within 1-2 business days. You should receive your Smoky Box within 3-7 business days after your order is processed, depending on your location. We only ship within the Continental United States.
We offer returns or exchanges within seven days of receiving your order as long as the product is unused. Click here to request a return or exchange.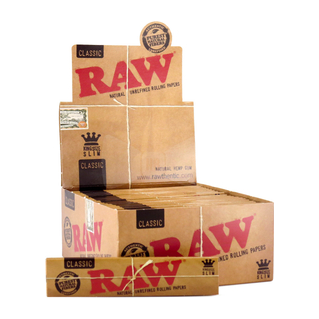 RAW Classic King Size Slim Rolling Paper