RAW Maestro Cone Tips, the gift that keeps on coning! Get 24 packs of these handy pre-rolled cones and you'll never get caught off-guard without a smoke-session. Load 'em up and party like its 420 everyday!

What's Included:

- 1 Box, 24 Packs, 32 Tips per booklet
We will ship your order within 1-2 business days. You should receive your Smoky Box within 3-7 business days after your order is processed, depending on your location. We only ship within the Continental United States.
We offer returns or exchanges within seven days of receiving your order as long as the product is unused. Click here to request a return or exchange.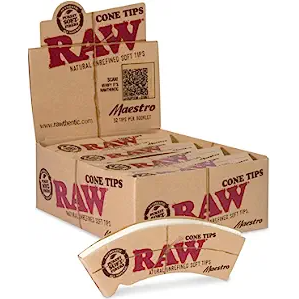 RAW Maestro Cone Tips BOX | 24 Packs