Never worry about running out of hemp wick again with the RAW Natural Hemp Wick Rolls. Each roll contains 10 feet of natural, unbleached hemp wick, providing a safe and eco-friendly alternative to butane lighters and matches. Made from pesticide-free hemp and beeswax, this product is both healthy and environmentally friendly. With a box of 40 rolls, you can say goodbye to matches and expensive lighters. To use, simply light the end and adjust the flame by tilting it up or down.

What's Included:

- 1 Box, 40 rolls
We will ship your order within 1-2 business days. You should receive your Smoky Box within 3-7 business days after your order is processed, depending on your location. We only ship within the Continental United States.
We offer returns or exchanges within seven days of receiving your order as long as the product is unused. Click here to request a return or exchange.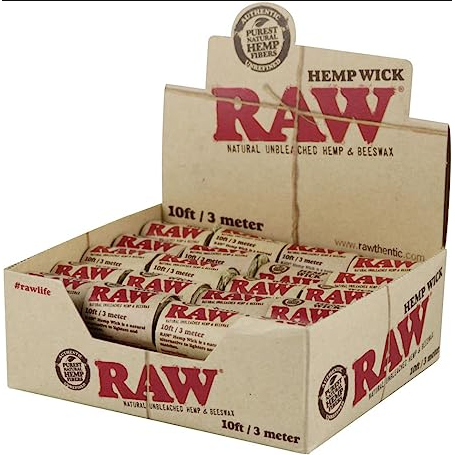 RAW Natural Hemp Wick 10ft/ 3 meters