Get ready to RAWK your world with these pre-rolled King Size cones! Organic hemp gives an extra natural flavor, so you can enjoy all the deliciousness without all the fuss. With 32 packs in the box, you can even share the love with friends! Get ready to make your smokin' sessions legendary! 

What's Included:

- 1 Box with 32 Packs with 3 Cones each 
We will ship your order within 1-2 business days. You should receive your Smoky Box within 3-7 business days after your order is processed, depending on your location. We only ship within the Continental United States.
We offer returns or exchanges within seven days of receiving your order as long as the product is unused. Click here to request a return or exchange.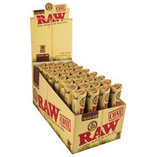 RAW Organic Hemp Pre-Rolled Cones King Size | 32 Packs