The Smok Stick AIO 0.23 Ohm Vape Pen features a built-in 1600mAh battery that can provide up to a full day of vaping on a single charge. The Stick AIO also has a variable voltage setting to customize your vaping experience. And with its 0.23-ohm coil, the Stick AIO produces great vapor and flavor. Whether you're a seasoned vaper or just starting out, the Smok Stick AIO 0.23 Ohm Vape Pen is a great option. It's easy to use, produces great vapor and flavor, and has a long-lasting battery.

Recommended wattage range:

0.23ohm ~ 25W-45W
5 Per Box
Atomizer Heads
Made Specifically For The Stick AIO Pod System
Four E-liquid Wicking Holes For Better Juice Flow.
We will ship your order within 1-2 business days. You should receive your Smoky Box within 3-7 business days after your order is processed, depending on your location. We only ship within the Continental United States.
We offer returns or exchanges within seven days of receiving your order as long as the product is unused. Click here to request a return or exchange.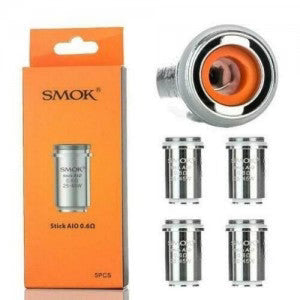 Smok Stick AIO 0.23 Ohm Vape Pen