Ready for a urine substitute that's as close as it gets? Look no further! UPass Synthetic Urine is a remarkable alternative that even urine testing labs use to calibrate their equipment. It matches the chemical composition and properties of real human urine so perfectly, you won't believe it's not the real deal. Whether you need it for playtime or a clean urine sample, UPass Synthetic Urine is your lifelike solution!

With ingredients like creatinine and essential vitamins, UPass has everything you'd find in your own pee. It shares the same pH balance and specific gravity as human urine, making it the ideal substitute. The best part? It's completely free of toxins and bacteria, unlike the real thing. That's why laboratories choose UPass for guaranteed toxin-free samples.

Crafted by Safeguard for superior quality, UPass is the ultimate choice when you need a top-notch urine substitute. It's cleaner, safer, and incredibly user-friendly. Trust UPass Synthetic Urine to pass any test with flying colors!

What's Included:

1 3oz Bottle of UPass Synthetic Urine
2 Hand Warmer
1 Flip Top Cap
1 Rubber Band
Complete Instructions
We will ship your order within 1-2 business days. You should receive your Smoky Box within 3-7 business days after your order is processed, depending on your location. We only ship within the Continental United States.
We offer returns or exchanges within seven days of receiving your order as long as the product is unused. Click here to request a return or exchange.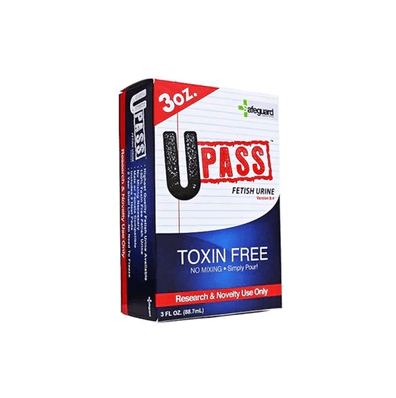 UPASS 3 OZ- Synthetic Urine