The Yocan Expure Bullet Dry Herb Atomizer is an ideal way to vape dry herbs. It is a portable and user-friendly atomizer that produces high-quality vapor. The Expure Bullet is durable and can easily withstand regular usage. With its unique chamber design, the Yocan Expure Bullet Dry Herb Atomizer heats your herbs evenly and efficiently. Additionally, it comes with various temperature settings to adjust the temperature to your preference. Using the Yocan Expure Bullet Dry Herb Atomizer is incredibly easy. Load your herbs into the chamber, select the desired temperature setting, and press the power button. Within seconds, the Expure Bullet will heat your herbs and produce vapor. The Yocan Expure Bullet Dry Herb Atomizer is a perfect accessory for any dry herb vaper. It is portable, easy to use, and produces excellent vapor quality.

Features And Specifications:
Water Bubbler Mouthpiece
Grade 2 Titanium Nail
10 Seconds of Continuous Heat
Battery Capacity:  650mAh
Charging Type:  USB
Battery Voltage:  4.2V (when fully charged)
Battery Wattage:  15W (when fully charged)
Max Atomizer Wattage: 15W (exceeding will damage coil or shorten lifespan)
Atomizer Resistance: 0.8ohms
On/Off:  Click the power button 5 times within 2 seconds
Battery Protections:
Low Voltage - 10 Consecutive Blinks (Needs to recharge)
Short Circuit - 3 Consecutive Blinks (Usually a bad coil)
Overtime - 8 Consecutive Blinks (Blinks after 10 seconds of use)

Package Contents:
1 Glass Bubbler Mouthpiece
1 Grade 2 Titanium Nail
1 650mAh Battery
2 Dual Quartz Rod Coils (1 Pre-Installed)
1 Pick Tool
1 Glass Jar
1 USB Charger
We will ship your order within 1-2 business days. You should receive your Smoky Box within 3-7 business days after your order is processed, depending on your location. We only ship within the Continental United States.
We offer returns or exchanges within seven days of receiving your order as long as the product is unused. Click here to request a return or exchange.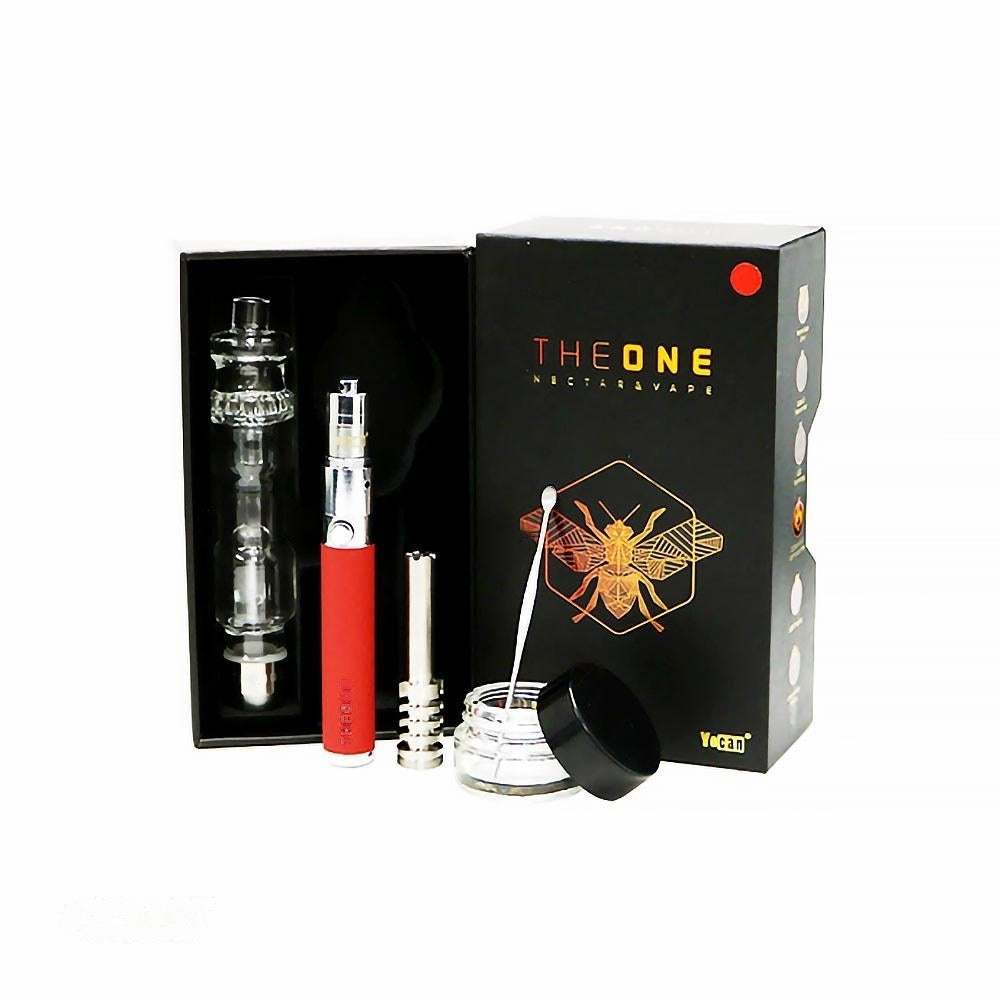 Yocan The One Wax Vape Atomizer